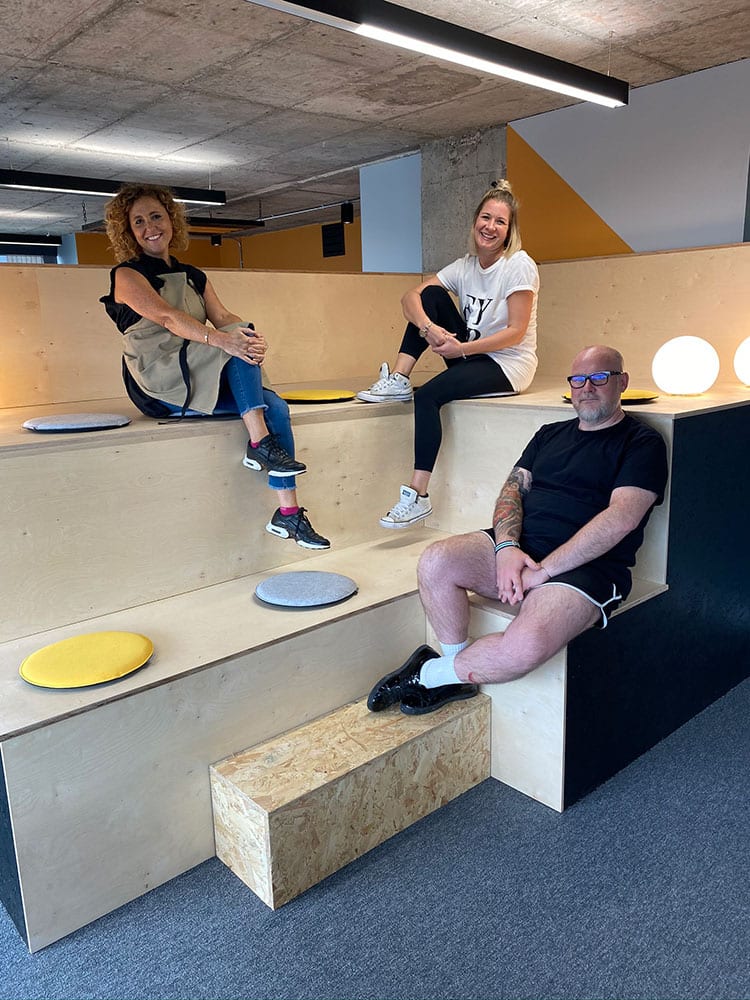 Well I don't know about you but when I saw that Offices were going to be project 2 I was surprised. It seemed, and indeed was, a massive step up from a single room in a show home.
The brief was delivered to us part way through the filming of week 1 and so we all designed our schemes at the end of long days of filming and installing the show homes. It was quite a challenge to focus on a new brief whilst still being fully immersed in the last one. Additionally we each had to prepare two different design schemes as the production team do not know until 'judgement day' who will go and who will stay.
My two briefs were a workspace for a Tech company and a breakout space for a Media PR brand. As someone who has worked in both Media & PR it won't come as a surprise which brief I was hoping for. I struck lucky – the lucky dip worked in my favour – or so I thought.
First up was the great news that I would be teamed up with Lynsey & Jon – I mean you saw what they did in the first Episode right? From the moment we sat down to share our mood boards for the first time it was clear we were going enjoy working together. It must have been disappointing for the crew as there was to be no drama from the three of us. We inspired each other, pushed each other, supported each other and there was never any doubt that we were dealing with one whole office space to include Lynsey's work space and Jon's meeting area. We were all of the understanding that there would be a winning office and then a losing office and that someone from the losing office would leave.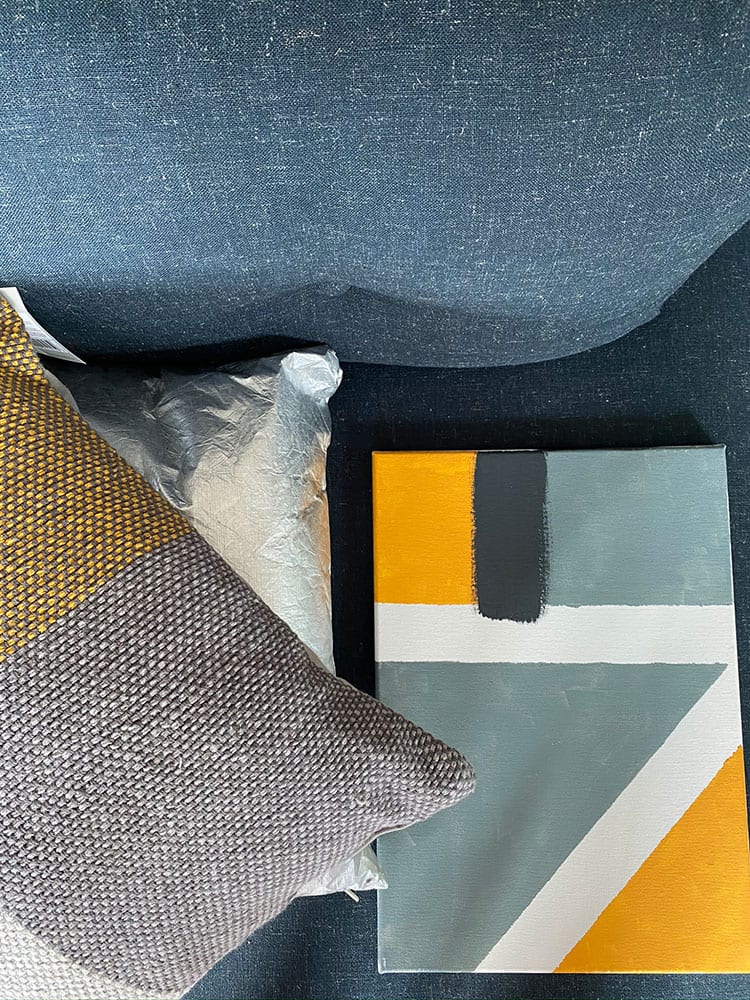 The prep week for Offices was full-on. There was no time for enjoying my 43rd birthday with the family because I had a stadium to build! In all seriousness the vision for my breakout space was to answer the brief which asked for BOLD, CREATIVE, PURPOSEFUL, INDIVIDUAL and to appeal to a sociable and forward-thinking work force.
There was also a requirement in the brief to include effective partitions to zone the different areas in the open plan office.
My design for the breakout space was aimed at the target market, who I believed would be looking for multiple spaces to breakout (such a noughties term don't you think?). I wanted to include areas for play (swings), contemplation (the chaise) discussion (the chairs), eating and generally hanging out (the breakfast bar & tiered seating).
It was important to me to be bold and creative but also to really push myself in week 2. I had seen the standard of the competition in week 1 and quite frankly I was in awe. There was such talent amongst my fellow competitors and I had been teamed up with two of the strongest designers from week 1 so I felt the need to massively up my game.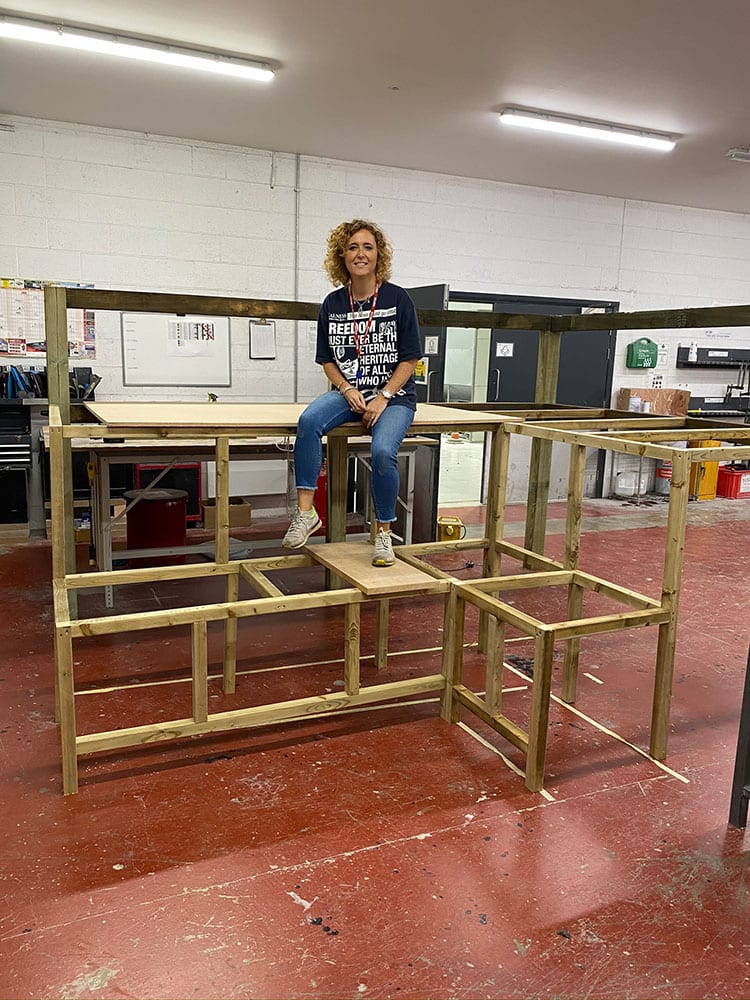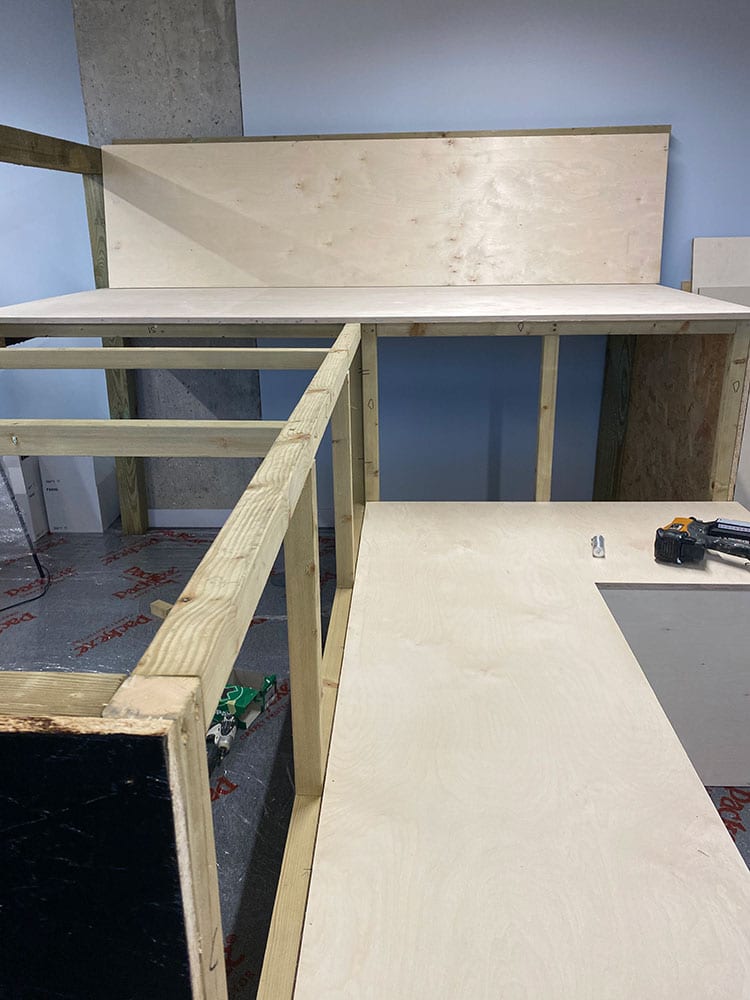 And so to the controversial tiered seating. The sociable and forward thinking workforce I was considering were the kind that I believed would enjoy perching on the different levels of the seating. There was sufficient space for a number of people to gather and catch up. The depth of the top tier allowed people to shuffle back and pop their legs out whilst enjoying the incredible 12th floor view over London. Having worked in Media & PR I remember only too well how many times there were office briefings, launches, client gatherings & presentations. There was always a requirement for a cool space to hold such events and I saw the tiered seating as an option for this.
On discussion with my team mates we all felt the seating would also offer a great solution to the partition challenge and create some real privacy for Jon's meeting area. Both Jon and I discussed the idea of building shelving into the back of the seating to maximise on the function and storage options but Jon preferred to have the repeat of the colour block instead. I therefore opted for a door in the side of the seating to allow for the area behind the seating to be used as storage.
Whilst the tiered seating was indeed bold and a statement it also felt sophisticated in the space, thanks to my decision to clad it with birch ply. It looked and felt expensive and was softened further by the lights and cushion pads. Members of the crew and fellow designers all took a seat or perch on it and some point over the week.
To say I was nervous about the level of construction I was committing to is an understatement. I was going to have to communicate my vision, my measurements & my amateur drawings to the super cool and very capable Stuart – the production joiner. It was this nervousness that resulted in me driving to Derby and back to use my brother-in-law's factory floor to do a trial build! I facetimed both Lynsey and Jon at every stage to get their feedback. They were both as excited as me and encouraged me to continue.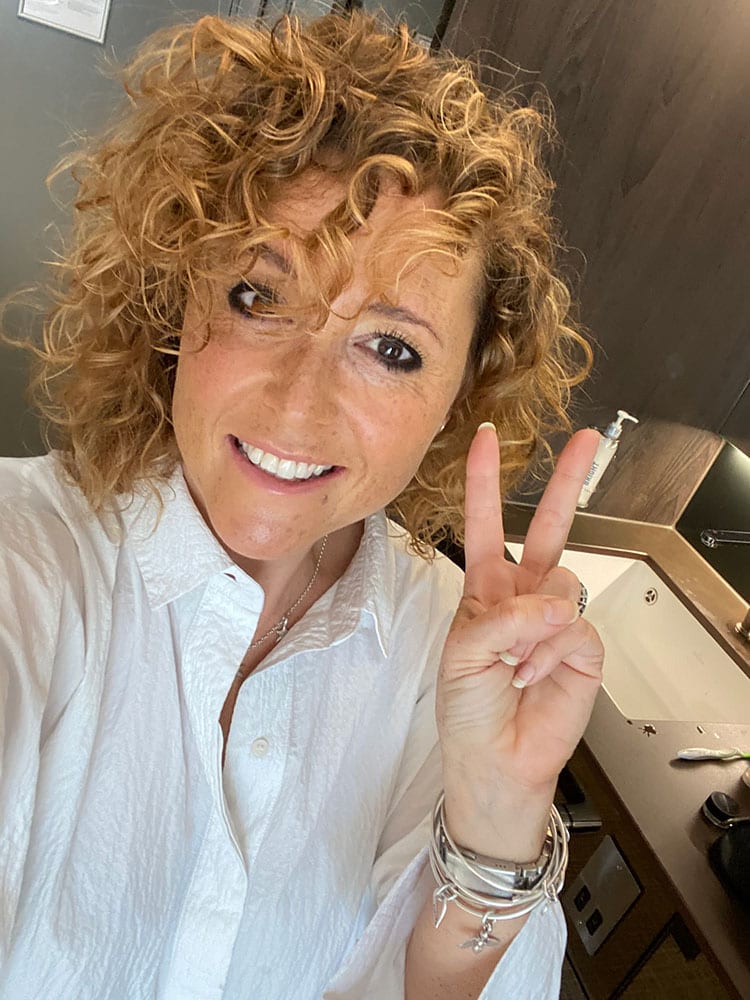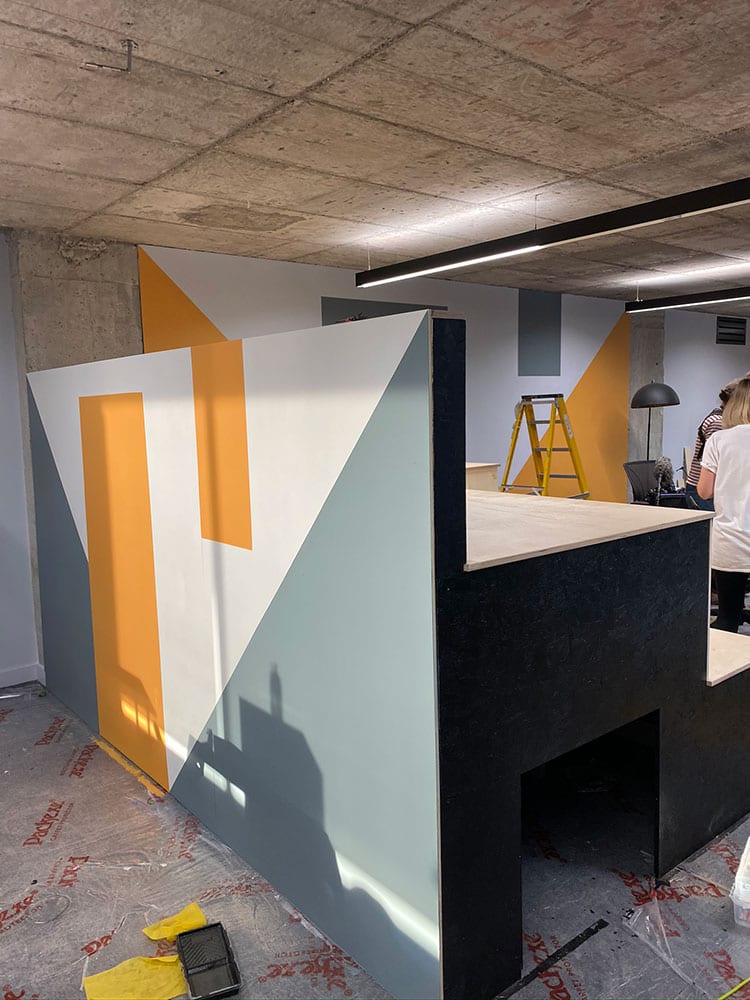 So it is worth saying at this point that offices week was about more than just the tiered seating. I also painted eBay bargain armchairs – a first! They came out so well and then I also had my first stab at upholstery which I was super happy with. This little seating area felt really cosy and sociable. Additionally there were the swings…. I found some old park swings for £5 each at a local scrap place and with a lick of gold spray paint I thought they added a really playful element to the scheme.
There are of course the things that the camera never sees like the snack station and the breakfast bar area for looking out over the view during 'breakout' but I will share all those details over in the projects pages.
Suffice to say…. Offices was my proudest moment. All three of us skipped out of there at the end of the final day – which was no mean feat given how exhausted we all were. We were super proud of our whole office and celebrated with a small glass of something at the pub at the end of the road – we could not have done any more!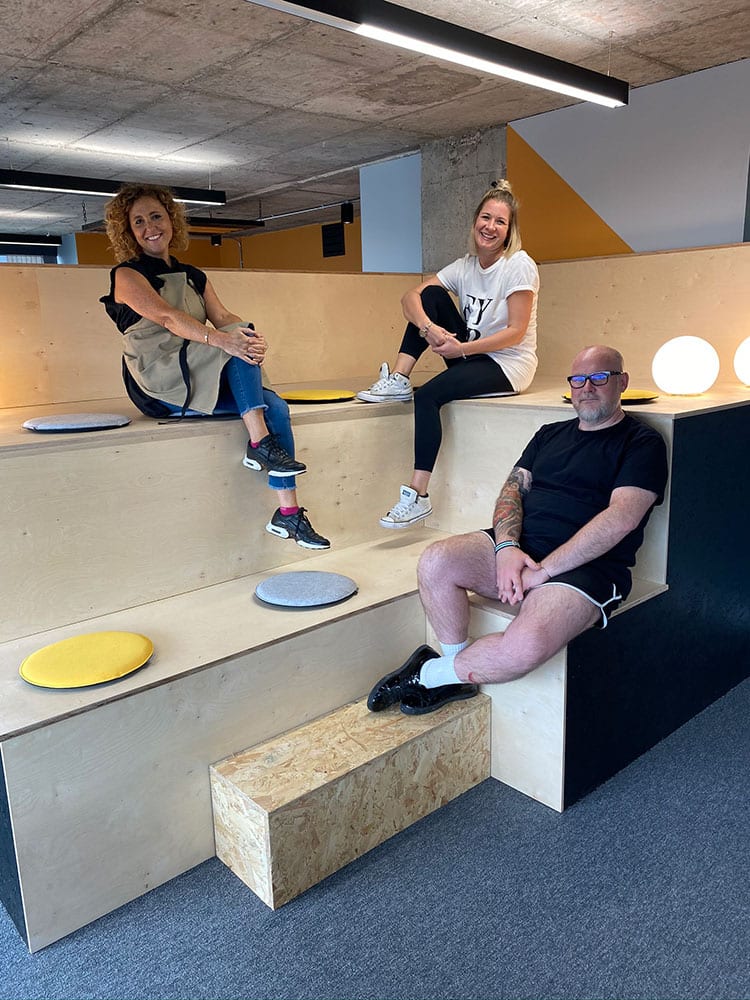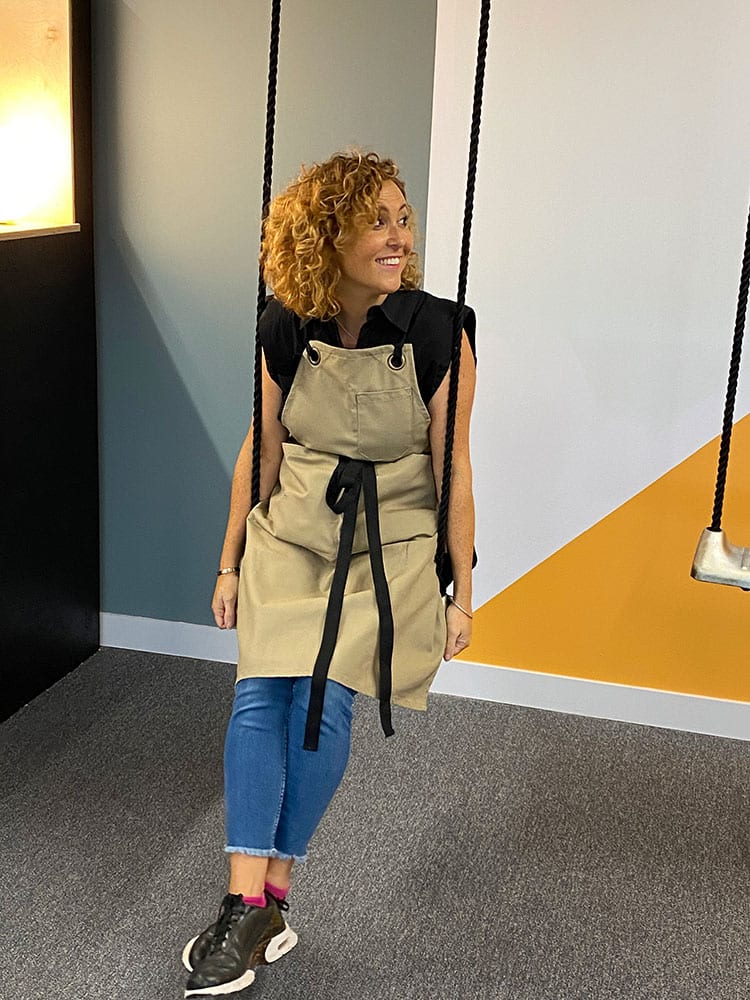 Next day, back in studio the wind was taken well and truly out of my sails! I was floored when I heard I was heading to the sofa to be grilled by the judges. I sobbed and suspect I even held up the filming of the showdown as I was actually inconsolable. I could not compose myself – I just felt utterly deflated (in fact that is an understatement) I felt totally and utterly devastated. I was on such a high and the kids were back home on a high for me and I was going to potentially have to tell them I was coming home. Yes this emotion was all before I even knew I was going home! Maybe I did know….?
I can't remember much of the time on the sofa. I feel sad and regretful that I didn't explain more to Michelle & Linda about why I had pushed myself so far and so hard. I potentially looked like I didn't care for their feedback which was definitely not the case but here was the thing….
Number 1 – I was incredibly proud of my scheme and felt it hit the brief. I had been giddy about it all week so didn't feel it would be genuine to start saying you are right I am wrong. Although I totally accept they are the experts and they were the judges so their opinion is the only one that counts. And Number 2 – It was taking everything in my power not to fall to pieces. Believe me when I say I felt sick – my heart was racing and I knew if the tears came they would never stop (and the kids might never talk to me again!)
So there it was – go BIG go home. No regrets! I made friends for life, had the time of my life and have so much to look forward to. This is not the last you have seen or heard from me and I will continue to share the 'behind the scenes' and the 'what next?' with you all here.
Thanks for reading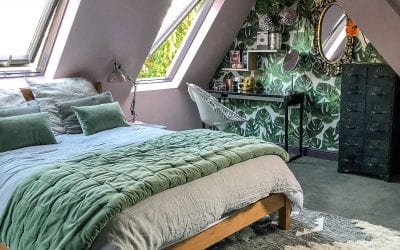 "How much can a person's surroundings influence their mood?"I am a huge advocate of creating mood enhancing spaces and truly believe the evidence that suggests that you can impact your wellbeing and state of mind by creating joyful, calming spaces."Will it help...